There are many different types of chains for jewelry making, in this blog we'll delve into what these chains can do and how they play a pivotal role in defining the style and character of your jewelry pieces. You'll discover interesting facts behind these intricate links, discover their significance, versatility and the different styles they bring to the world of jewelry design. Whether you're a jeweler or someone who's just interested in jewelry, this blog is meant to give you inspiration and knowledge on the diverse roles different chains can play in crafting beautiful eye catching jewelry.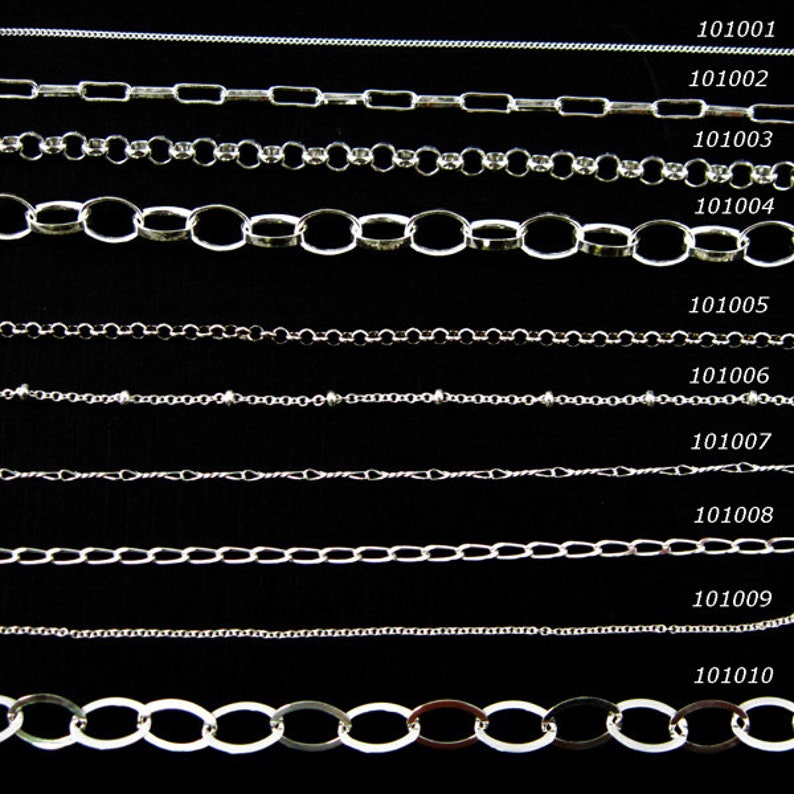 Rolo chains are made of interlocking circle links and are known to be classic and modern as well as a wardrobe staple. The Rolo Chain is a wardrobe staple. Necklace chains date back to 2500 BC, when the Ancient Egyptians threaded gold and silver together. Rolo chains are like cable chains but are a bit different because the links can vary in size. The Rolo chain gives a minimalistic look, the Rolo chain is a very dependable chain whether for a pendant or solo everyday wear.
Cable chains are made of links that are individually soldered providing assed strength and durability. Each link lays ninety degrees to the next link. Some variations of this chain include double link chain or parallel link chain where pairs of links are used, with other variants using rectangular links, square links and links that alternate in size. Cable chains are sturdy given their simple design. They are one of the most reliable types of chains as they won't easily break.
Curb chains consist of oval links that have been twisted and diamond cut so they lie flat on ant surface. Sometimes referred to ass Gourmette chain. Curb chains give a simple yet elegant and chic look. Curb chains are designed to interlock and sit flat on your chest. They have oval links with a slightly flattened face. Small curb chains are both more appealing to women and significantly strong compared to other types of chains that are similar in size.
Oval Chains are formed of individual oval links interlocked in a uniform pattern. Each link lies at ninety degrees to the next. Each section of the chain is exactly the same shape and size throughout, giving it a simple but classic look. Oval chains can also be known as cable chains and are good for hanging pendants as well. Oval chains are known for their durability and classic appearance and can vary in size from 0.8mm (about 0.03 in) to 17.5mm (about 0.69 in) and more.
Bead/Satellite chains are chains composed of beads strung onto and secured along a standard chain or joined together using wires connecting each bead. Delicate silver beads are evenly spaced along the length of the chain, these chains are perfect for layering with other chains. Bead chains are a very fine link chain which can be threaded through standard bead holes. Also, there's crimpable bead chain which can be crimped to secure the beads in place.
Figaro chains are one of the more unique styles of chain and have some similarities to the curb chain. This design originated in Italy and is named after the popular Italian opera 'The Marriage of Figaro'. Due to the soldered links, figaro chains are highly durable. Figaro chains are like a modified version of the curb chain, where the interlocking flat links vary in size. This chain style is popular among men and women and is often used for necklaces and bracelets. Sometimes it's possible to find rings and anklets made with Figaro chain links with a wide range of sizes, styles, and metals.
A series of flat diamond cut chain links. Many of these links are interwoven to form a diamond shape and then are twisted and flattened to form a Singapore chain. The Singapore chain is an affordable, lightweight and shiny-looking chain that has a more delicate look to it and is known to be popular among both men and women. The Singapore chain is sparkly, lightweight, and easy to style, because of its delicate structure it is also extremely lightweight, and the chain works well with a vast variety of styles and outfits.
Box chain is a popular chain given its geometric simplicity. Box chains are made from wire which is then rolled flat and folded into square links that then form open box links. Also known as book chain, briolette chain, square link, and venetian chain. The squares give this chain its box shape which adds a lot of stability to the necklace, so if you're looking for something long lasting this is the best choice. For chains at least 1.5mm (about 0.06 in) thick and above, they are also particularly strong. Box chains are known for easily holding pendants as well.
The paper clip chain can symbolize unity and resistance dating back to World War ll. This chain type is made from larger, loose links that in a way resemble the look of small paper clips, given the name of the chain. This paper clip chain has become so popular that it has now become a staple chain style for both men and women. The paperclip chain link has become so popular because it offers a bold look without the visual weight and chunkiness like Cuban links.
SNAKE
Snake chains are made of smooth round metal plates with a slight curve at their midpoint. There's no underlying wire or mesh to support these plates. Also, known as Brazilian chain, hexagon chain, round Maille chain, or star weave chain. Snake chains are narrow but sturdy and supremely flexible, creating a single, continuous and fluid chain. Snake chains are denser so use more sterling silver. Hence why sometimes they are more expensive than other chains. It gets its name from its smooth, scale-like texture, which resembles snakeskin, it's extremely flexible and comes in a variety of lengths.
A wheat chain is a symmetrical form of rope chain made from a small figure of eight links. Usually made up of four strands of oval and twisted oval links. Also known as Espiga chain or Spiga chain. The wheat chain is formed by V-shaped, interlocking links. It has a braided/woven look that resembles a stalk of wheat. This chain gives off a chic simple look. These are popular lightweight chains that are resistant to kinks. If you want the strongest thin chain, the wheat chain is the best choice.